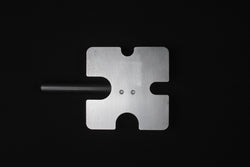 Small Wheel Rest
The small wheel work rest is an excellent addition to those who use a small wheel regularly in the shop. The four cut-outs match the four sizes of small wheels that we offer, allowing the user to surround the diameter of the wheel.
Having the wheel reliefs in the work rest provides for much better support of the workpiece, especially on smaller items. It also allows for accurate adjustment to keep all your angles square, which is essential when working on precise pieces.
This version is smaller than the one on the Gibson, they are 5" square and fit on the "universal tool rest" arm.