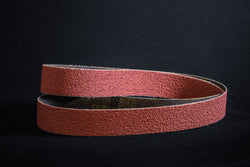 3M Cubitron 984F II Ceramic Belt
ATTENTION: We are no longer stocking abrasive belts in 2021, to make room on our shelves for other items. The stock that we currently have is the last of the stock we will offer! 
The 984F Cubitron II Belts are the absolute best stock removal abrasive belts for knife grinding we have found on the market. 

These metal shredding monsters have 3M's Precision Shaped Grain attached to the stiff YF weight backing that holds up to even the toughest grinding applications. 

The Precision Shaped Grain continuously re-fractures into new, sharp, and fast cutting points, for extremely cool cutting and long-lasting performance.
In the performance tests we have run, the 984's consistently have a stock removal rate 15-25% more than the next highest performing belt. 

They were developed to tackle hard to grind metals like stainless, cobalt-chrome, and nickel alloys and we found that with the level of hardness knives achieve, this feature of the 984F helps is excel.

Join over 250 happy customers today!

This product sadly only ships within the USA.