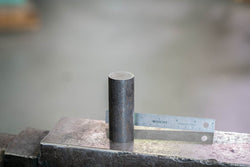 4340 3.5" x 1.375" RD Top Tool / Hardy Blank
4340 is a medium carbon alloy steel similar to 4140 but with the addition of a higher nickel content which gives it extra toughness, especially at slightly higher temperatures.
It is suitable for making most blacksmiths told such as hammers, punches, top and bottom tools, dies, etc. It is oil hardening but displayed some slight air-hardening properties so caution should be exercised to ensure struck ends of tools are soft. 
Element: Content %
Iron: 95.195 - 96.33
Nickel: 1.65 - 2.00
Chromium: 0.700 - 0.900
Manganese: 0.600 - 0.800
Carbon: 0.370 - 0.430
Molybdenum: 0.200 - 0.300
Silicon: 0.150 - 0.300
Sulfur: 0.0400
Phosphorous: 0.0350